Welcome to Chelsea Fine Arts
Fine Art Classes for students aged 8 - 18 years who are serious about learning to draw and paint.

TERM DATES ARE AS FOLLOWS:

MONDAY 6th JANUARY to Sunday 29th MARCH
FEBRUARY HALF TERM is Monday 17th February to Sunday 23rd February (no regular after school or weekend classes because of Half Term)

To register for term classes please go to Term Courses and select your desired session. Available places will be released from the waiting list.

FEBRUARY HALF TERM and EASTER HOLIDAY CLASSES ARE NOW AVAILABLE TO BOOK - SEE HOLIDAY CLASSES

BREAKING NEWS!!! WE HAVE ADDED AN EXTRA ADULT DROP-IN DAY in our CHELSEA STUDIO! We are offering Mondays (Chelsea Wharf) and Thursdays 10 30 am to 1pm (both studios) starting Monday 6th January. These are ideal for absolute beginners or for those who want to refresh their skills or learn a new medium. SEE ADULT DROP-IN TAB ABOVE FOR BOOKABLE DATES IN BOTH STUDIOS (3 to 5 sessions recommended)

Chelsea Fine Arts' mission is to develop and expose artistic talent in young people. We take this very seriously and think it is important for the young to have the right space, all the necessary materials with which to work and be supported by a proven teaching method to develop capabilities. We believe that any person can learn the skills of drawing and painting whether they are naturally talented or an absolute beginner. Our view is that talent is discovered and developed once the basics have been mastered. Without these, the ability to create is limited. Likewise we believe that art is not exclusive to those who are naturally talented. We look forward to building confidence and transferring these valuable life skills to all our students.
Read more about what we offer »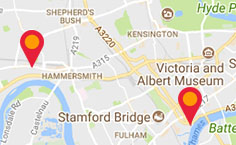 Chelsea Wharf - Located in a working artist's studio in Chelsea with magnificent views over the River Thames.
Ravenscourt Park - Located close to Latymer Upper School and just across from the entrance to Ravenscourt Park, not far from Hammersmith and Chiswick.
How to get to our locations »