Welcome to Chelsea Fine Arts
Fine Art Classes for students aged 8 - 18 years who are serious about learning to draw and paint.

THE START OF THE SPRING TERM HAS BEEN DELAYED. We will update our restart date following government guidelines and will be contacting all Spring Term students accordingly.

ADULT DROP IN CLASSES
We have delayed the start of adult classes and we will communicate our restart date following government guidelines.


Chelsea Fine Arts' mission is to develop and expose artistic talent in young people. We take this very seriously and think it is important for the young to have the right space, all the necessary materials with which to work and be supported by a proven teaching method to develop capabilities. We believe that any person can learn the skills of drawing and painting whether they are naturally talented or an absolute beginner. Our view is that talent is discovered and developed once the basics have been mastered. Without these, the ability to create is limited. Likewise we believe that art is not exclusive to those who are naturally talented. We look forward to building confidence and transferring these valuable life skills to all our students.
Read more about what we offer »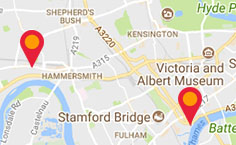 Chelsea Wharf - Located in a working artist's studio in Chelsea with magnificent views over the River Thames.
Ravenscourt Park - Located close to Latymer Upper School and just across from the entrance to Ravenscourt Park, not far from Hammersmith and Chiswick.
How to get to our locations »